Our fiberglass doors are composed of the following: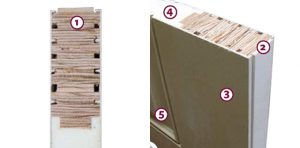 Reinforced laminated wood jambs to ensure increased resistance to thermal bowing, even in the most severe northern climates.
Prouded edge construction similar to the Novatech steel doors.
Woodgrain appearance is moulded onto fiberglass panels giving our doors the look of a real wood door.
HCFC-free polyurethane insulation, in harmony with the environment. The panel is 7 times more insulation value and less maintenance than a wood door.
Doors meet the standard