Shaped Windows Installation and Replacement
Shaped windows are basically picture windows that are not rectangular shape. They are some of the most expensive windows out there and also some of the least practical as none of them open. They are there to create a bold, expensive and unique look and/or compliment the architectural design of the house.
At Vinyl Window Pro, we can manufacture just about any shape window that one can draw on paper. We can also compliment this shaped window with shaped vinyl brick mould and interior vinyl jambs and casings.
Decorative grills can also be designed and installed inside the glass of the shaped windows to enhance the looks even further.

Features
Energy Star certified.
High performance 5 5⁄8 " uPVC frame
Made with triple weatherstripping and 7⁄8" thick energy efficient thermo(Low E Argon Gas).
Option: Triple, Laminated, Frosted, Gluechip.
Material: uPVC, uPVC and aluminum (hybrid)
Available colors: White, Brown, Black, Anodized, Custom Color
90-degree sash opening eases cleaning from the inside (when integrating casement windows).
Stainless steel hardware guarantees an increased durability.
Triple, black neoprene compression weatherstripping prevents
 air infiltration
Multi-point locks make the window even more airtight
Grille designs: Georgian 5⁄8" and 1", Rectangular 5⁄16", Tubular 1⁄4". Available colours: White, Colour, Brass, Silver, Pewter.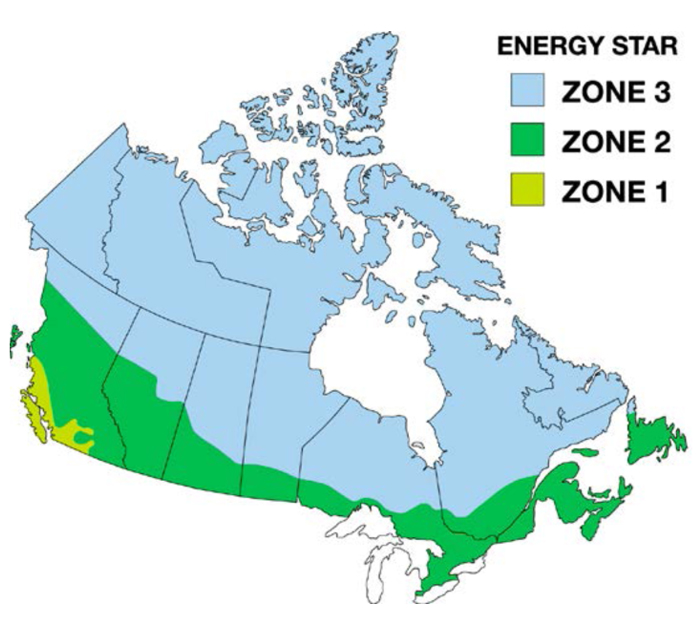 Canadian Climate Zone Map and Energy Star efficiency requirements for Windows and Doors
U-FACTOR CONVERSION TO R-VALUE
Windows, skylights and doors are not generally assigned with an R-value when they are being tested. Nevertheless, window salespeople and contractors may often refer to an R-value for measuring the window performance. R-value serves as a measure of the resistance to flow of heat. In order to understand this R-value system in a better way, you can sample U-factors in metric as well as imperial units that have been perfectly converted to the R-values in this following table. Since the ER values are actually derived from a mathematical formula that makes use of U-factor as well as solar heat gain, there's no method for directly converting the ER value into an R-value.
Shaped Windows – Recent Projects
.post_s{display:none;}
[product_tag tags="shaped-windows-project" per_page="30″ columns="4″]
Bay and Bow Windows - Recent Projects in Calgary, Alberta